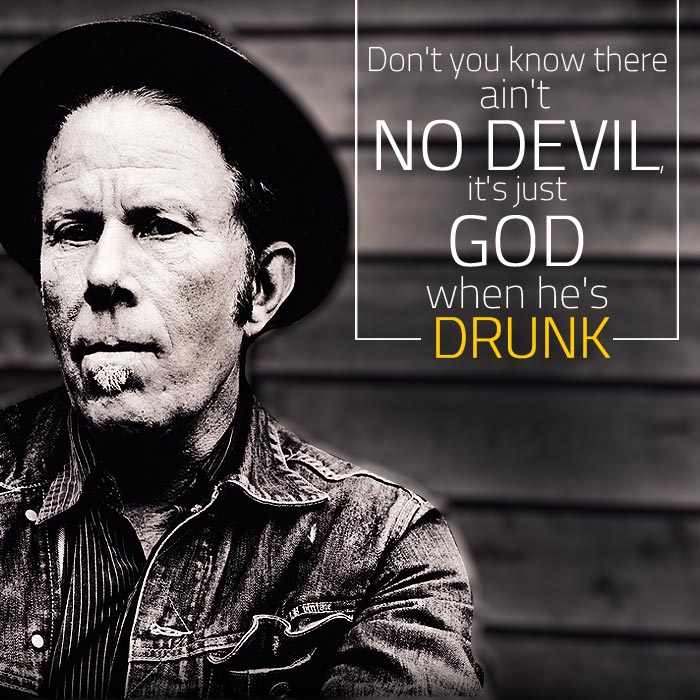 Sunday 17th June 2018.
Review by GARY CLARKE
While the show  titled Tom Waits For No Man has been around in various incarnations for more than a decade  I am confident none has surpassed this night's offering.  This was way beyond mere cabaret.  More like sublime musical theatre.  With an ensemble cast made up from the pick of this years Cabaret Festival and hosted by the ubiquitous Mikelangelo,  this was the standout performance of the whole festival for me so far.  The set was stunning.   The lighting and sound were spot on.  The stage design, direction and musical arrangements created a wonderful atmosphere  that complemented the delightful range of voices and interpretations of Waits' classics.
Everyone was brilliant.  Mikelangelo came closest to channeling the voice and timbre of Waits .  His take on Goin' Out West and Hold On were breathtaking. The superb musical backing  included a veritable orchestra of therumin, musical saw,  melodica, a cracking guitar,  violin, bass, drums, keyboards, piano accordion, spoons, collective percussion and more!  Brilliant musical direction and arrangements from Charly Zastrau underpinned the whole performance.
Butt Kapinski  (Deanna Fleysher) provided wonderful interludes of hilariously earnest, deadpan monologues of  What's He Building In There.   Delivered expertly whilst negotiating the audience space.   The curvaceous Carla Lippis adorned in a black cat suit punched out raunchy renditions of songs like  Make it Rain and the fabulous  Xmas Card To  A Hooker In New York.   Joey Arias reached down into the soul to deliver a moving  This Ones From The Heart.   Queenie Van De Zandt pushed the emotional envelope with her version of Martha.  Ali McGregor gave us Ice Cream Man.   Lachlan Ricks performed an Aerial tribute to Blue Valentine launched from his wheelchair and Charly Zastrau nailed it with a fast bluesy Melodica solo.
It was utterly heartwarming as the whole ensemble came together for moving renditions of Hoist The Rag and the extraordinary anthem of Waltzing Matilda as Tom Traubert's Blues.  The whole performance and the warmth and camaraderie of the cast mirrored the earthy inclusiveness of Waits lyrical poetry and embraced an enraptured audience.  While I could taste the whiskey and smell the cigarette smoke  I detected just a hint of Brecht in the air.    This is making it real.    Bravo!!      … 5K